Map WebEngine
Latest Version: 1.0.7433, Friday, 12-Oct-2018 09:22:26 BST
(Changes in this version)
---
Have you ever used Google Maps or Google Earth and wanted to show your own photos on their maps? True, you can do this by uploading to Panoramio but it can take months for your photos to be made public, and they will only select a few.
This plugin aims to help with this. It uses the familiar Google Maps display and control, with your own photos displayed on the map. There's no delay and no approval process, you simply upload the pages and photos to your own server and use it like any normal website!
It has extensive customisation ability, with most colours and sizes being changeable. The full-size photo pages can have any combination of information you like, all neatly formatted.
Any photos that don't have GPS information will still be included in the pages, but will obviously not be shown on the maps.
For an example, take a look here.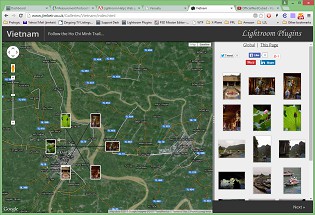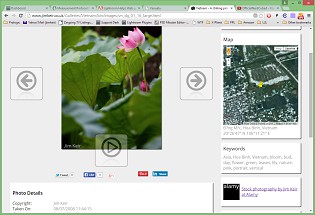 ---
Features
Use the familiar Google Maps display with your own photos, with no delays or approval stage
Modern HTML5 design
Responsive layout
Use a Content Delivery Network
Use Google Analytics
Extensively configurable
Pages work on desktop, Android and iOS (iPhone/iPad)
You can download and read the manual here.

Requirements
Adobe Lightroom 3 or newer, including CC Classic. Lightroom CC Cloud is a cut-down version of Lightroom with no plugin support.
| | |
| --- | --- |
| | |
Try it for free, then buy a license key here to unlock all the features.
All sales are subject to Terms & Conditions. Please take the time to review these.
You can download and use the plug-in as a demonstration for FREE. These links will also work to update an existing copy, licensed or not.
Without a license, some of the advanced features are disabled and some of your links will be changed.